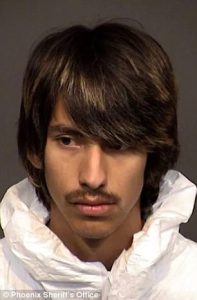 Martin Larney, 22, of Arizona didn't like the outfit his girlfriend, Alina Duwyenie, also 22, was wearing. So he shot her in the left eye. At the hospital, the young woman was pronounced dead.
Larney told three different stories about the incident, finally admitting he shot his girlfriend. It wasn't his first domestic violence incident.
Jealous boyfriend 'fatally shoots his girlfriend in the EYE after becoming upset over the outfit she was wearing,' on DailyMail.co.uk.