Ma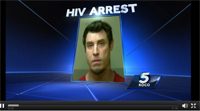 rtin Kraham, 36, from Oklahoma City, trolled the internet looking for sex, according to police. He was arrested after having allegedly posted 695 ads on Craigslist over six and a half years, claiming to be drug- and disease-free, when in fact he tested positive for HIV in 2007, according to the Oklahoma State Health Department.
"It feels like I've been raped, that's really the only way to explain it," one female victim said. "It just feels like you've been completely violated."
Another woman released the following statement, according to KOKO.com in Oklahoma City:
"The entire situation is devastating. "˜Party' Marty Kraham is a trust fund psychopath, preying on innocent people from all walks of life. To anyone who has been exposed to HIV by Marty, it's not your fault & there is support for you. He groomed his victims by gaining their trust. He lied by telling all of us that he was HIV negative."
Kraham is facing two counts of knowingly engaging in conduct likely to transfer HIV and two counts of using access to computers to violate Oklahoma state statutes.
"If he has engaged in the amount of unprotected sex that he has sought, then there could be hundreds of people infected," an alleged victim said in response to the investigation.
Kraham's wife, however, doesn't believe the allegations, according to Newson6.com.
Oklahoma man arrested, accused of having sex without disclosing HIV status, from KOCO.com
OKC Man Accused Of Knowingly Trying To Spread HIV, from newson6.com