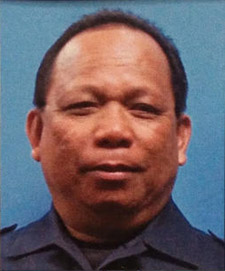 Gladys Tordil, 44, a high school teacher in Prince George's County, Maryland, filed a protective order against her husband, Eulalio Tordil, 62, in March. She alleged that he subjected her children to "intense-military-like discipline" and physically abused one child for over a decade. She said he threatened to harm her if she left him, and owned multiple guns.
Eulalio Tordil, who worked for the Federal Protective Service, was stripped of his badge and gun and placed on administrative duties.
On Thursday, May 5, Eulalio Tordil allegedly shot and killed his wife as she sat in an SUV in a high school parking lot, waiting to pick up her daughters. He also shot and injured a man who tried to intervene.
Tordil was at large all night. Then at 11 a.m. Friday, May 6, he allegedly shot three people at the Westfield Montgomery Mall, killing one of them. Less than an hour later, he allegedly shot and killed a woman outside a Giant Food supermarket in Aspen Hill, Maryland.
Then he strolled around another shopping center, and calmly ate lunch at a Boston Market. But police by this time had him under surveillance and arrested him.
Tordil had told colleagues that he planned to die in a "suicide by cop." He didn't get his wish.
Suspect in custody in shootings at mall, grocery store, high school, on WashingtonPost.com.
Man suspected of fatally shooting wife was ordered stripped of gun and badge in March, on WashingtonPost.com.