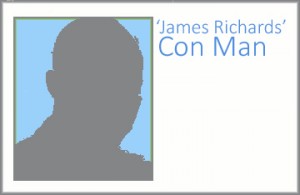 Monty Emu, 28 and Adewunmi Nusi, 37, both claimed to be a middle-aged man named "James Richards." The  two men used the same Match.com fake profile to troll  for vulnerable women who would fall for "James Richards'" sob story.
Suzanne Hardman was one of the women who got duped by the scam. She said that after they had been communicating for about 11 months, "James Richards" told her that his dead father had a frozen account in India with £1.5 m in it, but he needed money to go there to access it.  He also told her that he intended to sell a number of properties owned by his father. She got tricked into paying out £174,000.
Emu and Nusi were found guilty of conning a total of £220,000 out of women. They face sentencing in October.
Match.com dating con: Vulnerable women scammed out of £220,000 through fake millionaire profile, from the Mirror.
Match.com conmen: two men found guilty of dating website scam, from the Guardian.