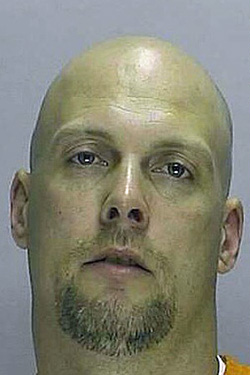 Michael Eitel, 45, of Berlin, New Jersey, allegedly stabbed his ex-girlfriend, Carol Bowne, 39, of West Berlin, to death in her driveway.
She had taken out a restraining order against him, which he had violated.
Eitel was charged with murder. After a three-day manhunt, he was found in the garage of another ex-girlfriend, where he hanged himself.
Records allege that Eitel had repeatedly threatened another woman's life in 2006 and vowed to kill himself. He pleaded guilty and received a five-year prison term for a weapons offense.
Woman's accused killer kills self in Berlin home, on CourierPostOnline.com.
N.J. man wanted in killing of ex-girlfriend found dead, on Philly.com.