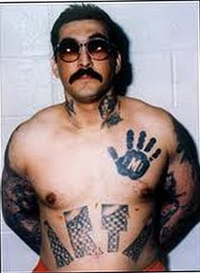 Rene "Boxer" Enriquez, once a key figure in the Mexican Mafia, is serving life sentences for two two murders.
But since landing in jail, he's become a rock star snitch. From behind bars, he's co-written three books. Authorities even let him out of jail to give presentations to law enforcement organizations.
Now, this very dangerous man is due to be paroled.
Mexican Mafia hitman turned super snitch to be paroled in California, on Latino.FoxNews.com.
How a Mexican mafia killer became a law enforcement darling, on LATimes.com.
Story suggested by a Lovefraud reader.