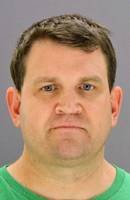 Four people were severely injured and two people died after being operated on by Christopher Duntsch, a neurosurgeon from Dallas, Texas.
Duntsch has been charged with five counts of aggravated assault for allegedly botching spinal surgeries, and one count of injuring an elderly person. Authorities are investigating at least 10 more injuries.
"I am ready to leave the love and kindness and goodness and patience that I mix with everything else that I am and become a cold blooded killer," Duntsch said in an email sent to an employee on Dec. 11, 2011. The email was presented as evidence at a recent bail hearing. The doctor was denied a reduction of his $600,000 bail.
A medical colleague called Duntsch a "sociopath."
'Sociopath' neurosurgeon accused of intentionally botching operations, on WashingtonPost.com.
Surgeon who wrote of becoming a killer is denied bail reduction, on DallasNews.com.
Story suggested by a Lovefraud reader.