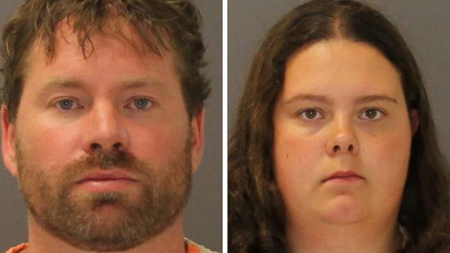 In upstate New York, Nicole Vaisey and her boyfriend Stephen Howells Jr. allegedly lured two Amish girls, ages seven and 12, away from the family vegetable stand they were working and into their car.
St. Lawrence County Sherriff's Sgt. Brooks Bigwarfe said the couple shackled the girls and intended on turning them into slaves.
According to police, the pair got frightened by news reports and released the girls 24 hours after their capture some 30 miles from where they had been abducted. Authorities revealed that the girls had been sexually assaulted while in captivity.
Nicole Vaisey's defense attorney says the woman was Howells' slave. "She was in a master-slave relationship," Bradford Riendeau said, according to the Associated Press. "I believe she's not as culpable as he is."
Couple Used Dog to Lure Amish Girls, Police Say, from abcNews.