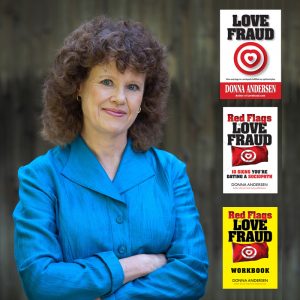 Good has come out of my disastrous marriage to a sociopath. With all I've learned about sociopaths, I now have the expertise to help you understand the insanity that you're dealing with. It's a gift, and I truly enjoy sharing it.
The sharing season is approaching. So from now through Nov. 21, if you schedule a 1-hour personal consultation, I'll give you my three Lovefraud books for free.
Love Fraud — How marriage to a sociopath fulfilled my spiritual plan tells my personal story. It reads like a cross between a true crime novel and a spiritual journey.
Red Flags of Love Fraud — 10 signs you're dating a sociopath is a self-help book which explains the sociopathic personality disorder, how these social predators seduce their targets, and how to avoid them.
The Red Flags of Love Fraud Workbook enables you to assess your own vulnerabilities, so you can recognize when you're being targeted and get out of the relationship before too much damage is done.
Choose either ebooks (valued at $26.85) or printed books (valued at $56.85 — just pay shipping).
I'm not a therapist, but after collecting 10,000 Lovefraud cases, I know how sociopaths behave.
Most people only call me once. I listen to their stories, validate their perceptions, and offer advice on how to move forward. They usually tell me that they feel much better after our conversation — I remember one man saying that I helped him more in one hour than seven years of therapy.
For me, it's gratifying — it means my horrible marriage to a sociopath had a deeper purpose.
So if you've been thinking about calling me, now is a good time to do it. We'll talk about your particular situation. And then you'll have my three books to reinforce our conversation.
Please click the link below to make your purchase. Then, contact me to set up an appointment — call 609-945-1384 or send email to [email protected]
A one-hour consultation is $95. Half-hour consultations are also available for $50.