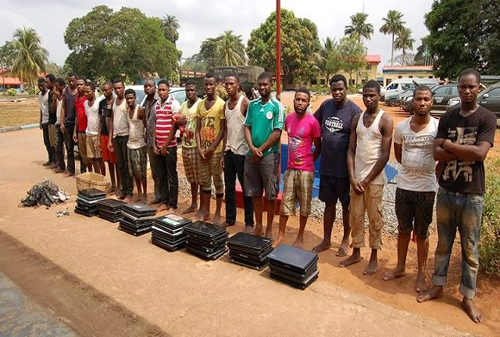 They're called the "Yahoo Boys." They're Nigerian university students who go to class during the day and commit Internet fraud by night and on weekends. Some of them have become filthy rich.
The Nigerian Economic and Financial Crimes Commission (EFCC) has recently arrested more than 100 undergraduates for financial fraud including online love fraud — popularly known as "Yahoo Yahoo." Over the last nine months, the authorities recovered more than US$765,000 — 26 percent more than they recovered in all of last year.
Internet fraud is big business in Nigeria. Fraudsters specialize in different types of crimes, such as online dating, phishing, or ATM fraud.
Oludayo Tade, a lecturer on criminology, deviance and social problems at the University of Ibadan, one of the most prestigious universities in Nigeria, wrote an article on the topic that was reproduced by U.S. News and World Report. A third-year student said to him:
I started online fraud in my second semester of 100 level [a session comprised of two academic semesters in Nigerian universities] as an impostor via online dating. Then I looked for the profile of people that live in developed countries. But if it is in Nigeria, I look for people who live in places like Port Harcourt, Abuja [luxury suburbs].
I always posed to them as a big man who needed a wife. Sometimes I posed to them on how my wife disappointed me and took away my property and children. All this is polished in a pitiable way with some pictures to convince them when I'm chatting with them. However, what I do mainly now is to transmit misleading information online for people to send their bank accounts [details].
 So beware: If you meet someone new online, no matter what the picture looks like, there's a very good chance that the person is really a Nigerian scammer.