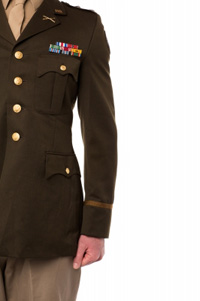 Valentine's Day is coming, and the U.S. Army expects a surge in scam reports.
Thousands of lonely women, looking for love online, meet members of the U.S. military. The men are handsome and rugged, they're serving in harm's way, and they're also lonely. The men chat the women up, the women fall in love. The men want to pursue the relationship, but, they say, they need financial help to do it. Can the women send money?
Don't do it! It's a scam!
The U. S. Army Criminal Investigation Command says this: DO NOT SEND MONEY TO PEOPLE YOU MEET ON THE INTERNET WHO CLAIM TO BE U.S. MILITARY.
An authentic U.S. service member NEVER needs financial assistance for transportation, communication fees, medical costs or marriage processing fees. If someone is asking for money, it's likely he is a scammer from West Africa.
Here's the easiest way to spot a scammer: An authentic member of the military will have an email address ending in ".mil." If the person cannot send you an email from an account ending in .mil, and receive email on an account ending in .mil, he is a scammer.
Ask for his official military email address. They may have excuses like, "I don't have one," or, "we're not allowed to give it to civilians," or, "we're not allowed to use it for personal stuff." These statements are LIES! All members of the military have email addresses, and they are allowed to use them.
A scammer may be able to create an email address that resembles a U.S. military address, but it may have a hidden "reply to" address. So here's what you do:
Ask him for his official military email address.
Compose a brand new email and send it to the address. Do not use the "reply" button of a previous email from him.
If he does not receive your email, he is a scammer.
More information:
CID advises vigilance against 'romance scams,' scammers impersonating soldiers, on Army.mil.