Lovefraud CE webinars – survivors learn what to do, therapists learn how to help, plus earn credits
Lovefraud Continuing Education offers an entire catalog of online webinars for the public and and professionals. These webinars teach you what you need to know about recognizing, escaping and recovering from exploiters and manipulators.
Authoritative information about:
antisocial personality disorder,
narcissistic personality disorder,
borderline personality disorder, and
psychopathy.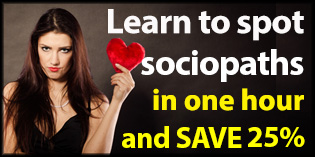 Who should take the courses?
The public people who want to protect themselves, or who have already tangled with an exploiter and need to escape and recover
Therapists mental health professionals who need to know more about personality disorders and earn continuing education credits.

What course formats are available?
Live webinars scheduled for a particular date and time. Attend via your computer. You'll have the opportunity to ask the instructor questions.
On Demand recordings the live webinars are recorded for you to watch whenever you want. You get the same information at your convenience.

Lovefraud Continuing Education News
Articles about the courses that are now available on demand
Interviews with instructors
Sign up for Lovefraud CE announcements
Lovefraud is constantly developing new continuing education courses for professionals, survivors and the public. Sign up and you'll be informed when new webinars are available. You'll also receive the Lovefraud newsletter every Tuesday.