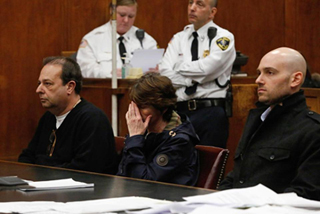 Steven Palladino, his wife, Lori, and their son, Gregory, were all sentenced for running a Ponzi scheme, taking about $10 million from dozens of friends and neighbors.
Steven Palladino, the ringleader, blew the money on gambling trips to Las Vegas, expensive cars and rent for his mistress. When his lawyer claimed Palladino was sorry, victims in the courtroom scoffed. One victim called Palladino a sociopath.
Ponzi scam brings 10-year sentence, on BostonGlobe.com.
Story suggested by a Lovefraud reader.