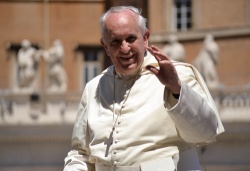 Pope Francis met with six victims of clergy sex abuse on Monday. He begged forgiveness for the sins of Catholic priests, and vowed to hold bishops accountable.
Pope: Bishops must be held accountable for abuse, on ABCNews.go.com
In May, Pope Francis declared a "zero tolerance" policy for members of the clergy who abuse children. The Vatican has appointed a former child victim as one of the first members of a new commission to help the Church put an end to clerical sexual abuse. The U.S. victims group, Survivors Network of Those Abused by Priests (SNAP), called the move a public relations coup.
But the Vatican did order that Josef Wesolowski, a senior Polish archbishop accused of pedophilia in the Dominican Republican, be defrocked as a priest pending further criminal proceedings.
Vatican defrocks Polish archbishop Josef Wesolowski accused of sexual abuse, from The Independent.
Lovefraud hopes Pope Francis is serious about cleaning up the clergy sex abuse mess.