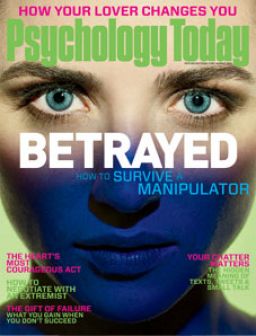 The cover story of this month's Psychology Today magazine focuses on something Lovefraud readers know all too well:
The Drama of Deception
Being scammed by someone you trust is the ultimate betrayal. It's bad enough that those who are duped heap guilt on themselves, but the world tends to join in the blamefest. And here's just one of many ironies: Those with expertise are not immune to being conned.
The author, Abby Ellin, interviewed me for the article, along with the Lovefraud writer Steve Becker, LCSW. You'll see several quotes from both of us.
Highlights of the article:
"Our culture may embrace the redeemed sinner, but the person victimized—not so much," says psychiatrist Anna Fels.

"When emotions, such as greed, kick in, we tend to put our skepticism on the shelf," says Stephen Greenspan, Ph.D.

"We tend to ignore warning signals and just quickly try to ease the pressure. If you come across an opportunity to fulfill a desire, you are likely to not check it out thoroughly," says psychologist David Modic.
The article is a good read. Thank you to the author, Abby Ellin, for drawing attention to this important topic.
The Drama of Deception, on PsychologyToday.com.