Donna Andersen, author of Lovefraud.com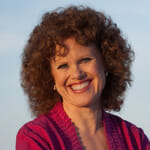 I launched Lovefraud.com because I was married to a sociopath. Like most people who find their way to Lovefraud, I learned about this disorder the hard way.
Besides my direct involvement with a sociopath, up close and very personally, I've spoken to and corresponded with thousands of other people who have also had the experience. So I know how I dealt with the situation, and what many other people did as well.
Our conversation can cover many areas:
1. Helping you identify if you are, in fact, invovled with a sociopath or a similar type of exploiter, and coming to terms with that reality.
2. Possible approaches and points to consider in legal issues such as divorce or fraud claims.
3. Possible approaches and points to consider if you have children with the individual.
4. Advice on how to begin the healing process.
Because of my experience, I also wrote the books, Love Fraud – How marriage to a sociopath fulfilled my spiritual plan. I can, if you like, talk about the experience from a spiritual perspective. But if you'd rather stick to practical aspects of your situation, that's fine too.
Send Message to listing owner
Donna Andersen, author of Lovefraud.com