Divorce and child custody consultant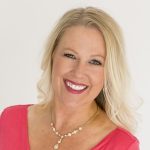 Tina Swithin survived a Category Five Divorce Hurricane while acting as her own attorney in a custody battle in San Luis Obispo, California that turned her family's life upside down. While divorces are never easy, Tina quickly learned that a divorce involving an individual with Narcissistic Personality Disorder (NPD) takes the term, "high-conflict" to a level that few can comprehend. In an effort to articulate what was happening in her new "Alice in Wonderland" reality, Tina took shelter from the storm by chronicling her journey in her (now) internationally recognized blog, "One Mom's Battle." Tina's little village grew to include thousands of people who all shared the same story. There were different variations and nuances but the common denominator was Narcissistic Personality Disorder.

Tina's battle came to an end after four long years when she walked out of the Family Court System on July 10, 2013, with the one thing that she had dedicated her life to securing: her daughters' safety. Despite the fact that the odds were against her, Tina never gave up. She waded through the muddy waters of a courtroom that was filled with the lies and manipulation. Tina prevailed and obtained a final custody order for full custody while her ex-husband was ordered to have professionally supervised visits. In October of 2014, Tina's battle took an unexpected but positive turn when the courts revoked all visits and all contact. Tina and her children have complete peace.