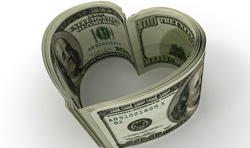 Wow a financial institution in the U.S. is finally taking romance scams seriously. On Wednesday, March 1, 2017, the San Diego County Credit Union will present a seminar called "Romance Scams and Love Fraud."
The speaker is Paul Greenwood, San Diego County deputy district attorney. He will cover current scams, romance scams and ways to protect yourself.
If you're in San Diego, California, you may want to stop by. It's from 12-1 p.m. PT at the San Diego County Administration Center, 1600 Pacific Coast Highway. The event is free, and they'll even serve you lunch!
SDCCU Financial Wellness Wednesdays presents free seminar on romance scams and love fraud, on CUinsight.com.