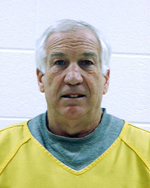 A report compiled by former federal prosecutor Geoffrey Moulton and released by the Pennsylvania attorney general's office on this week revealed that Jerry Sandusky, Penn State sexual predator, got a three-year stay-out-of- jail pass prior to his arrest because the Pennsylvania agencies responsible for investigating the case failed to share information with one another.
The report said that "˜inexplicable delays and poor decisions made in 2009 led to the serial child molester' escaping justice. Sandusky was interviewed by a social worker in 2009 after charges from one victim were documented.
From 2009 until 2011, no witnesses were interviewed, no witnesses testified in the grand jury and no grand jury subpoenas were issued. Moulton wrote in the report that the basis for that decision was that one accuser's testimony wouldn't be enough to convict Sandusky and an acquittal would make it harder to file more charges later.
Sandusky report reveals three years of 'inexplicable and inexcusable delays' in bringing the serial sexual predator to justice, from The Daily Mail.

Two days after Corbett was elected governor in November 2010, the Centre County prosecutor received an anonymous tip directing investigators to assistant football coach Mike McQueary, whose testimony would eventually help convict Sandusky.