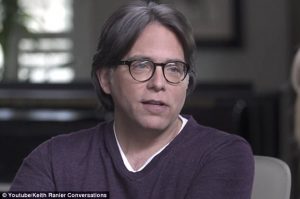 Now, a cult for the rich and famous. Clare and Sara Bronfman, heiresses to the Seagram Company, gave $65 million to Keith Raniere, who founded a self-help group called Nxivm (pronounced "Nexium," like the heartburn medication).
Last March, Raniere was charged in federal court with coercing women to have sex with him by threatening to reveal damaging secrets about them.
On July 24, Clare Bronfman was charged with conspiracy and criminal racketeering.
The organization even had a secret "sorority" for women, who were branded during the initiation ceremony. It was run like a pyramid scheme of "masters" and "slaves."
The whole organization is very disturbing. And despite its claims of being focused on ethics, its tactics are right out of the cult leader's playbook. As far as I'm concerned, cult leaders are sociopaths on steroids.
Read for yourself:
The journey of the 'sex cult' heiress: From reluctant recruit to criminal defendant, on NYTimes.com.
Inside Nxivm, the 'sex cult' that preached empowerment, on NYTimes.com.