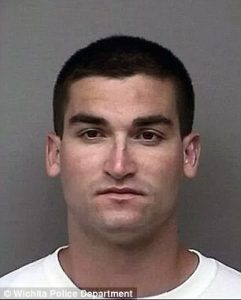 Corbin James Breitenbach, 23, of Wichita, Kansas, had already done four years in prison for choking and raping a 22-year-old woman. He was released on April 28 — and six weeks later, he was arrested for breaking into a second-floor apartment bedroom, taking a 7-year-old girl out on to the balcony, and raping her.
A family member said that when Breitenbach was 17, "something changed him. He snapped."
Psychopathy often kicks in at adolescence, and it sounds like that's what happened.
Convicted sex offender, 23, sneaks into neighbor's home and 'rapes and chokes girl, SEVEN, just six weeks after being released from prison on parole for another assault', on DailyMail.co.uk.
Recently paroled sex offender arrested in brutal attack on 7-year-old, on Kansas.com.