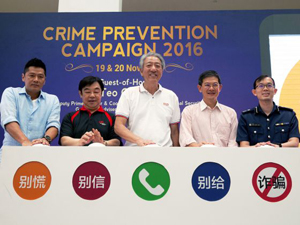 Scammers are running amok all over the world, but at least in Singapore, authorities are trying to educate people not to fall for them.
In Singapore, victims are losing S$120,000 a day. So the National Crime Prevention Council and the Singapore Police Force have launched a new anti-scam hotline. They are promoting it with television commercials featuring a local celebrity.
The commercial makes three simple points:
Do not panic
Do not believe the scammers
Do not give in to their demands
I'd like to see other countries educating their citizens as well. Click the link below to see a video report and parts of the commercial.
New hotline launched in fight against scammers, on ChannelNewsAsia.com.