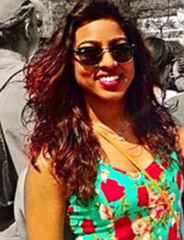 Nadia Ezaldein, 22, a law student at a Chicago, IL university, was working at her job at Nordstrom on Black Friday when her ex boyfriend, Marcus Dee, 31, fatally shot her and then turned the gun on himself.
Ezaldein had ended her 14-month relationship with Dee in December of 2013 following months of "psychological torment and physical abuse," her family said. In April of 2014 Ezaldein had filed a protection order against Dee, which was denied.
Nordstroms was full of customers at 8:30 pm when the shooting occurred but nobody else was hurt. The retailer closed their downtown Chicago store the next day out of respect for their employee and her family and to support the other employees as they regrouped.
Nordstrom worker gunned down by her stalker ex-boyfriend on Black Friday… after she was denied a protection order to keep him away, from Mail Online.