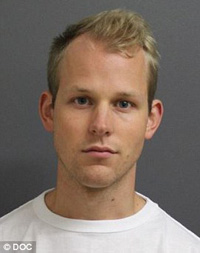 Right off the bat, something about Daniel Drill-Mellum didn't feel right.
Two years ago, when Abby Honold was a 19-year-old student at the University of Minesota, she met Drill-Mellum, 22, at a party. He asked her to help him get more alcohol at his apartment across the street, and she didn't feel safe. But she went anyway.
The man raped her. Then, two of his fraternity brothers tricked her into saying the sex was consensual while they recorded the call.
Her claims weren't taken seriously until the case was reopened by a University of Minnesota police officer. Eventually, more victims of the same man came forward, and Drill-Mellum pleaded guilty.
'He laughed while he was raping me': U of Minnesota student details brutal 2014 attack during tailgate party that led to year-long struggle to bring her attacker to justice, on DailyMail.co.uk.