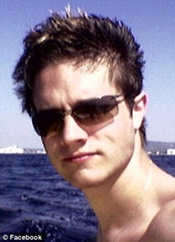 Ben Way, 33, of San Francisco, who made millions as a technology entrepreneur, posted an account online about the domestic abuse he endured at the hands and feet of his ex-girlfriend.
His goal was to draw attention to the fact that men are sometimes physically assaulted by women. Way said:
I am writing this article because I heard from a lot of my male friends who have gone through similar experiences, where a woman can use the perception of vulnerability to abuse and bully their partners. She was well aware of the power of using a mans masculinity against him.
Another tech founder in shocking domestic abuse case, on TWNow.com.
Millionaire tech entrepreneur opens up about 'vicious beatings he suffered at the hands of his ex-girlfriend' and how he 'hid the knives' in their San Francisco home for fear she'd stab him, on DailyMail.co.uk.