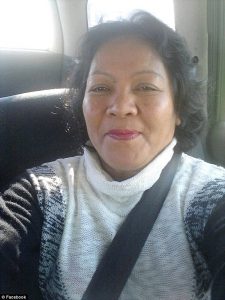 Online dating is dangerous. Just ask Maria Elvira Pinto Exposto, 54, of Sydney, Australia, who may hang because of a romance scam.
For two years, she communicated an online boyfriend, who claimed to be "Captain Daniel Smith," a US soldier stationed in Afghanistan. The online boyfriend eventually proposed to her. Maria flew to Shanghai to meet him. He didn't show up. Instead, she was given two bags to bring back to Melbourne.
At a layover in Kuala Lumpur International Airport in Malaysia, the bags were searched. Drugs were stitched into the linings. Maria had no idea.
Maria was convicted of drug smuggling. She was acquitted in December 2017 — the judge ruled she had been groomed by an impostor. But prosecutors appealed, and the Court of Appeal found her guilty.
In Malaysia, the mandatory sentence for drug smuggling is death.
Sydney grandmother sentenced to death by hanging, on News.com.au.
An Australian grandmother has been sentenced to death for drug smuggling in Malaysia, on Time.com.
Previous coverage on Lovefraud: