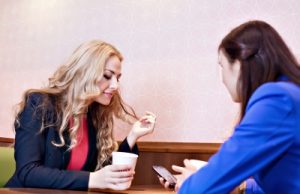 He was charming, magnetic, successful, and he had chosen her — Nicole. Everything was perfect at first, but eventually there were problems — and they were always her fault. He said she ruined everything.
Nicole did her best to make him happy, to be a better girlfriend. Eventually, though, she escaped and collapsed.
From her therapist, Nicole learned that what she had experienced was not normal behavior; it was abuse. The therapist also suggested that she contact his previous girlfriend.
So Nicole ended up talking to Elizabeth, and learned that she'd endured exactly the same behavior.
Gaslighting: The 'perfect' romance that became a nightmare, on BBC.com.
Link supplied by a Lovefraud reader.