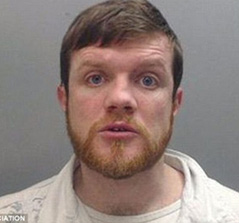 Darren Seago, 31, a British man, was sentenced to six years in jail for stalking and threatening his former girlfriend, Georgia Biggs, 29, from Widnes, Cheshire.
Seago threatened to blow her brains out, kill her family and bury them in the woods.
When he went to trial, Georgia Biggs learned that he had previously been convicted of stalking eight other women. A psychologist testified that Seago had borderline personality disorder.
Mother who thought she'd met the 'perfect gent' reveals how he threatened to bury her and her two children (and he stalked EIGHT other women before her), on DailyMail.co.uk.
Link supplied by a Lovefraud reader.