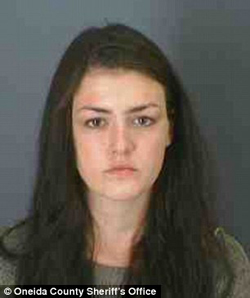 Mary Yoder, a chiropractor from Whitesboro, New York, died suddenly in July 2015.
The next day, her employee, Kaitlyn Conley, 23, wrote a Facebook post:
'You truly were a positive light in the world and I'm so lucky and thankful our lives crossed paths.

'There wasn't a day I didn't look forward to work with you. You taught me so much and had such a profound impact on my life.

'Everyone appreciated your attention, stories, and laughter.

'We will be remember you for your light, energy, and strength, and the best way I can think to honor your life is to emulate your genuine, cheerful, and kind spirit.'
Conley was just charged with second-degree murder for killing her boss.
New York woman, 23, charged with fatally poisoning her 60-year-old chiropractor boss before remembering her in Facebook post the day after she died, on DailyMail.co.uk.