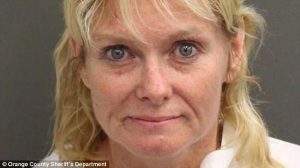 Paula Lynn Hobbs, 51, or Orlando, Florida, has a history of forgery, fraud, theft and battery. She spent seven years in prison. Now, she has been charged with murder.
She is accused of shooting her boyfriend, Everett Leslie Humble, 63. A passer-by saw his unresponsive body on the porch of their apartment and called police.
Woman facing murder charges asks Orlando cops to 'Tell me he is dead,' on OrlandoSentinel.com.