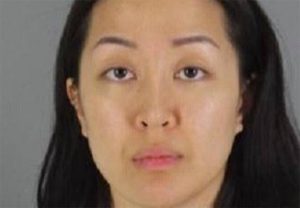 Tiffany Li, 31, of Hillsborough, California, is charged in a murder-for-hire scheme in the death of Keith Green, 27, the father of their two young daughters.
Li was released from jail yesterday after posting an unprecedented $35 million in bail. Li comes from a wealthy Chinese family, and her mother, along with family friends and associates, raised $4 million in cash and pledged 15 properties valued at $62 million. (In California, twice the bail amount must be met if property is used in lieu of cash.)
Li and Green were in a custody dispute. Friends of Green said he feared for his life.
Millionaire Chinese real estate heiress accused of ordering the murder of her ex is freed on $35 million bail — to the horror of his family, on DailyMail.co.uk.
Millbrae Murder Suspect Tiffany Li Posts Unprecedented $35 Million Bail, on SFIst.com