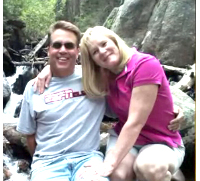 On a Christian dating website, Sonserae Lees-Calver of California met Harold Henthorn, who is now suspected of murdering two wives. She says, "I think there's a level of naivety and vulnerability in a lot of women on Christian dating sites," according to MailOnline.
Luckily, Sonserae listened to her instincts and ended her involvement with Henthorn. She believes she "dodged a bullet."
EXCLUSIVE: 'I absolutely dodged a bullet': Woman who dated man accused of murdering BOTH his wives tells how they met on the same Christian singles website where he found his second alleged victim, on DailyMail.co.uk.
Story suggested by a Lovefraud reader.