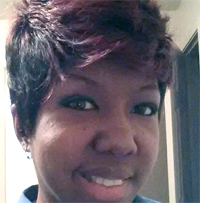 Alicia West, 33, from Caddo Parish, La., died when her throat was slashed by abusive ex-boyfriend, 26-year-old Kelvin Brown.
This was after three separate temporary restraining orders that she filed against him were denied.
According to KTBS in Shreveport, La.,Brown broke out the windows of West's home, tampered with the alarm system, set small fires outside her window and relentlessly sent her harassing texts and phone calls — yet one judge stated that she did not 'state sufficient facts to constitute a violation of the Domestic Abuse Act.'
West was however granted a temporary restraining order in Bossier Parish, where she worked and where Brown lived. That didn't do her much good as Brown waited in her bushes with a knife in his hand.
Brown is facing a charge of second degree murder.
Shreveport woman stabbed to death was denied three restraining orders against ex-boyfriend, from KTBS.com
Link supplied by a Lovefraud reader.