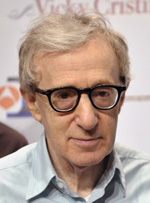 As the Hollywood award season is in full swing, one particular plot is thickening. It contains scandal, intrigue, guilt, lies, he said/she said, accusations of child molestation, a vengeful lover, a scarred child, and a steadfast judge. It's a Woody Allen production but it's not a movie … it's his real life.
Just as the Hollywood Foreign Press honored Woody Allen with a lifetime achievement award at the Golden Globes, Dylan Farrow, Allen's adopted daughter with ex-girlfriend Mia Farrow, wrote an open letter which was published by the New York Times, revealing in her own words, for the first time, her side of the 21 year-old sexual molestation story.
As was the case in 1993, Allen denies any guilt.
The Onion website, known for satire and parody, published a post supposedly written by Allen, admitting that he put his fans in a tough spot as to whether to believe and support him and his work, or to believe Farrow. It is unknown whether the post reflects Allen's true views.
The story continues …
An Open Letter From Dylan Farrow, from the NY Times
Woody Allen's lawyer blames 'vengeful lover' for child molestation controversy, from CNN
Boy, I've Really Put You In A Tough Spot, Haven't I? from The Onion