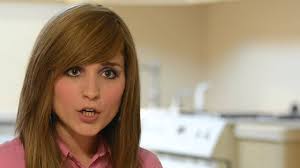 Rivky Stein, 25, of Brooklyn, New York, broke down in court last month as she accused her husband of abuse of raping and starving her.
The husband, Yoel Weiss, refuses to give her a "get," or religious divorce. Under orthodox Jewish law, only the husband can grant a get.
Read about the case here:
'Raped on her wedding night, beaten while pregnant then starved and tortured by her own husband' but still DENIED a divorce: Orthodox Jewish woman fights for religious separation as partner laughs at her in court, on DailyMail.co.uk
There's a term for this situation in Hebrew agunot, or "chained wives." According to Tablet, a website about Jewish life, there are hundreds of cases of agunot in North America. There's actually an organization that tries to help women caught in these cases. One of the strategies is public shaming of the recalcitrant husband. Read more on:
Facebook, unchain me! on Tabletmag.com
Rivky created a YouTube video in which she describes how she was treated by her husband. Lovefraud readers will recognize his power and control tactics in this disturbing account.
Rivky speaks, on YouTube.com. (You need to sign in and confirm your age to view the video.)
Story suggested by a Lovefraud reader.