This short ebook, Recovery from the Sociopath Sampler, is the first step in your recovery from the sociopath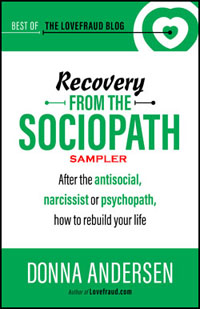 A message from Donna Andersen, author of Lovefraud.com:
Millions of master manipulators live among us. Perhaps you didn't know it before, but you sure know it now, because one (or more) of them has turned your life upside down.
Recovery is certainly possible, but it does require effort on your part.
That's the theme of the Recovery from the Sociopath Sampler. The publication is a preview of my Best of the Lovefraud Blog series — a curated collection of my best Lovefraud articles.
I'll send you a PDF of the book when you fill out the form below. I'll also send you the Lovefraud newsletter, which is published every Tuesday.
I hope this Recovery from the Sociopath Sampler inspires you to move past the pain of your experience and begin to rebuild your life.