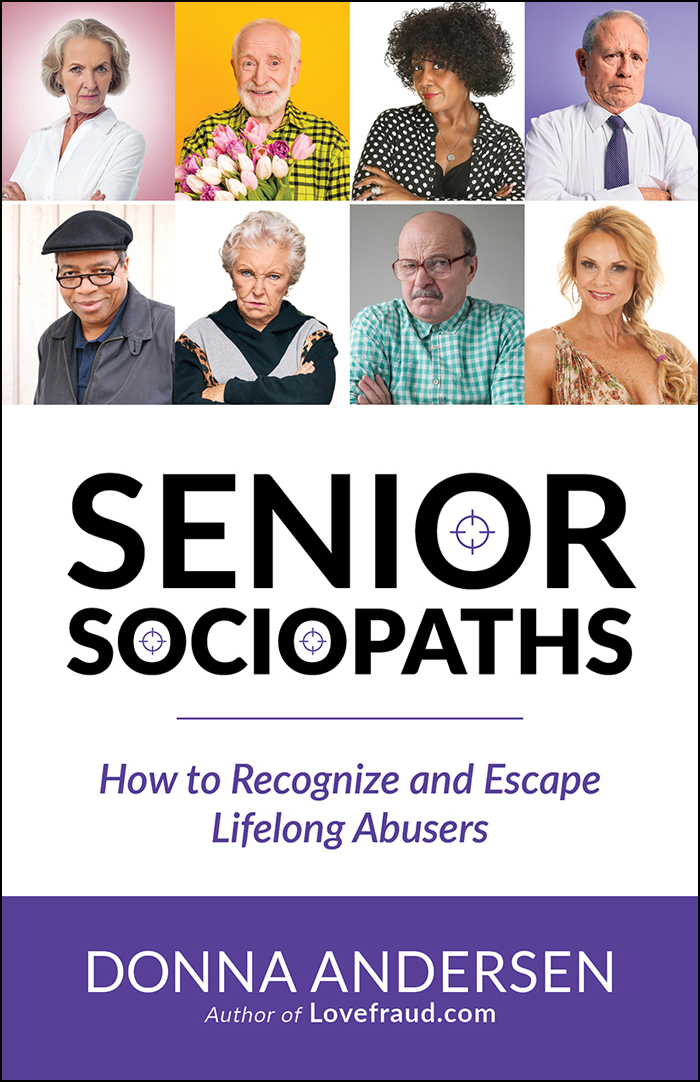 Buy SENIOR SOCIOPATHS now on Lovefraud or Amazon!
The latest book by Lovefraud author Donna Andersen, Senior Sociopaths – How to recognize and escape lifelong abusers, reveals that most sociopaths never stop their manipulative and deceptive behavior. So if you're waiting for a senior sociopath to grow up or calm down — whether a romantic partner, family member, work colleague or friend — stop wasting your life. He or she will not change.
This might be news to you. After all, the common wisdom in the mental health field is that sociopaths "burn out" in their 40s and engage in less antisocial behavior. Several psychiatry textbooks directly state this. According to Donna's research, it's not true.
Senior Sociopaths is based on surveys of 2,377 Lovefraud readers who described their experiences with sociopaths who were age 50 or older. The bottom line is that of the respondents who knew the sociopaths both before and after age 50, 91% said their behavior was just as bad or worse as they got older.
Upcoming interviews about the book — mark your calendar!
Posted interviews — listen or read now!
Senior Sociopath Youtube Series
Who should read Senior Sociopaths?
If you are uneasy about your over-50 romantic partner, but you're not sure why …
If your spouse was always difficult, but now, after 50, seems to be getting worse …
If you're struggling to determine your obligation to your demanding, critical, parent …
If a family member, after age 50, is still causing havoc and division among your relatives …
If an over-50 friend, neighbor or acquaintance is turning everyone against you …
If your senior boss or co-worker is threatening your employment or career …
Senior Sociopaths includes hundreds of stories from people who have dealt with all of these issues. The book helps you to recognize whether the individual who is making your life miserable is, in fact, disordered, so that you can decide what to do.
Based on a review of numerous scientific studies, Donna estimates that 14 million Americans over the age of 50 are sociopaths, meaning they could be diagnosed with antisocial, narcissistic, borderline, histrionic or psychopathic personality disorders. There is no treatment proven to cure these personality disorders.
The information in this book will help you realize that sociopaths will continue their manipulative, deceptive, and abusive behavior forever, so you can determine your own path forward.
Endorsement

Donna Andersen has been a pioneer, passionately and tirelessly advocating for victims of sociopathy for decades. This book continues her incredible body of work to help those wrangling with sociopathy through accessible real life stories combined with research to help victims of sociopaths to know that they aren't alone, to understand their own experiences, to protect themselves, and heal. While the purpose is to debunk the myth that sociopaths "burn out" in their senior years, this book is a must read for anyone interested in learning more about sociopathy at any age.

Tiffany Kettermann, LPC, LMHC, MPA, MA

Director, Health Allies Counseling
Buy SENIOR SOCIOPATHS now on Lovefraud or Amazon!
What you'll learn in Senior Sociopaths
Introduction: 14 million senior sociopaths live in America, and they never stop exploiting the rest of us
Chapter⁠ 1: When charming new romantic partners, 50 or older, turn out to be senior sociopaths
Chapter⁠ 2⁠: Why psychologists say sociopaths "burn out" — and evidence that they're wrong
Chapter⁠ 3⁠: Marriage to a sociopath — whether short or long — never gets any better
Chapter ⁠4: Senior sociopaths as parents — abusing children while young, still abusing them as adults
Chapter ⁠5: Senior sociopaths in the family — toxic siblings, grandparents, relatives and in-laws
Chapter⁠ 6: Senior sociopaths as neighbors and work colleagues — manipulative, unethical bullies and backstabbers
Chapter⁠ 7: Criminal behavior over 50 — when senior sociopaths break the law, they often get away with it
Chapter ⁠8: Dealing with and escaping from senior sociopaths — survivors offer tactics that work
Chapter⁠ 9: After devastation by a senior sociopath, rebuilding your life and recovering yourself
Endnotes: 82 citations and tables with further detailed information
How to deal with the senior sociopath and how to recover
Sociopaths don't burn out as they get older, they become more devious — or they stop even pretending to be human and become blatantly cruel.
So if you have a senior sociopath in your life, what do you do?
In the last two chapters of Senior Sociopaths, hundreds of survey respondents share their experiences and suggestions for dealing with senior sociopaths and recovering from the damage that they cause. You'll learn the top action that most people who have been where you are recommend, along with specific tips that you may not have thought of.
The key point of the book is that senior sociopaths exist. They blend right into our society. And they continue their abusive behavior until the day they die.
Nothing you can do will change senior sociopaths. Thoroughly understanding this will enable you to protect yourself and live your best life.
Endorsement

This is a great book on senior sociopathy (or psychopathy). Donna Andersen has done an outstanding job of providing a coherent narrative through case studies that is captivating to read, but also relies on scientific data collected from thousands of informants on individuals with sociopathic personality traits to back up her major points. Anyone interested in the victims of sociopathic individuals should read this book!

Martin Sellbom, PhD
Editor, Journal of Personality Assessment
About the author
Donna Andersen is author of Lovefraud.com, a website that teaches people to recognize and recover from sociopaths. She is also author of Red Flags of Love Fraud — 10 signs you're dating a sociopath, the Red Flags of Love Fraud Workbook, and the four-part series, Best of the Lovefraud Blog.
Donna learned about senior sociopaths the hard way — by marrying one. She tells the whole outrageous story in her first book, Love Fraud — How marriage to a sociopath fulfilled my spiritual plan. The book was awarded five stars by the Midwest Book Review.
Lovefraud.com launched in 2005 and readers often say the website is the best source on the Internet for information about relationships with sociopaths. Many Lovefraud readers thank Donna for saving their lives.
Donna founded Lovefraud Education and Recovery. The nonprofit offers online webinars to help professionals and the public spot, escape and recover from narcissists, antisocials, psychopaths and other manipulators. She is co-author of two scientific papers about sociopaths, and has presented research to the Society for the Scientific Study of Psychopathy.
Donna has appeared on television including three shows on Investigation Discovery: Love, Honor, Betray; Deadly Women and Who the Bleep Did I Marry? She also appeared on Insight in Australia, ABC News 20/20, My Life is a Lifetime Movie, Handsome Devils and The Ricki Lake Show. Donna has been interviewed for multiple radio shows, print articles and web posts.
Donna graduated summa cum laude from the Syracuse University with degrees in magazine journalism and psychology. She was the original editor of Atlantic City Magazine, and then founded a boutique advertising agency, Donna Andersen Copywriting, in 1983. Her portfolio includes instructional design, freelance magazine articles, newsletters, corporate communications, web content and more.
Donna is happily remarried, proving that recovery from betrayal is possible.
Video: Why Donna Andersen wrote Senior Sociopaths
Scientific article on Senior Sociopaths
Surviving Senior Psychopathy: Informant Reports of Deceit and Antisocial Behavior in Multiple Types of Relationships. Donna M. Andersen, Emma Veltman and Martin Sellbom. Scientific article for the International Journal of Offender Therapy and Comparative Criminology, January 2022.
Abstract: A prevailing view among researchers and mental health clinicians is that symptoms of antisocial personality disorder (ASPD)/psychopathy decrease as affected individuals reach middle age. In the current investigation, informants were surveyed about the behavior of individuals who they believed showed traits of ASPD/psychopathy and were over the age of 50. A final sample of 1,215 respondents rated the index individuals according to the ASPD/psychopathy traits derived from the pre-publication first draft of the Diagnostic and Statistical Manual of Mental Disorders Fifth Edition, revealing high endorsement of traits associated with ASPD. Survey respondents reported their observations that individuals who met a threshold for putative ASPD/psychopathy continued to engage in antisocial behavior after age 50, and as a result the respondents endured significant harm, including material losses, financial losses, and various self-reported mental health problems. Those who knew the index individuals both before and after the age of 50 were specifically asked whether there was a change in the individual's engagement in manipulation, deceit, and antisocial behavior; 93% of respondents reported that the behavior was just as bad or worse after age 50. Other researchers have suggested that the DSM diagnostic criteria do not accurately describe ASPD/psychopathy symptoms and behavior in older adults, and that the disorder remains stable, but its manifestation changes with age. This study supports those conclusions.
https://doi.org/10.1177/0306624X211067089
Endorsement

Donna Andersen is setting the record straight through important research that defies widely accepted, false information about sociopaths and their targets. My own experience working with survivors of sociopaths aligns with the data presented in this book. I highly recommend this for targets and survivors of sociopaths as well as professionals who work in the fields of mental health or criminal justice.

Mandy Friedman LPCC-S
Clermont Mental Health