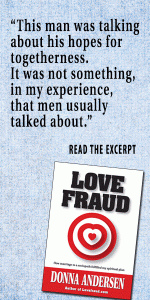 By Donna Andersen
I met James Montgomery online in 1996. Although he was originally from Sydney, Australia, he moved to New Jersey and lived about a half-hour from my home. After corresponding for a month, we met for breakfast:
My scrambled eggs arrived—James only ordered coffee. "So you've worked in Hollywood?" I asked.
"Yes, I was one of the founders of the cable channel, Movietime. Later the channel was sold to Time Warner and became E! Entertainment Television. When I was there, our concept was to make Movietime interactive. But this was back in the late '80s—we were ahead of our time.
"I also did some screenwriting—I have credits for Crocodile Dundee II. The Crocodile Dundee movies were … Read more