Media coverage
Donna Andersen's media appearances and interviews
Lovefraud.com is a website and blog that teaches people how to recognize and avoid sociopaths. The author is Donna Andersen, a journalist who was married to a man who she believes is a sociopath.
Donna Andersen is also author of  Red Flags of Love Fraud—10 signs you're dating a sociopath. Her first book, Love Fraud, tells the outrageous story of her own marriage.
If you are a reporter doing a story related to sociopaths or psychopaths, Lovefraud experts may be able to help. Donna Andersen can answer your questions about sociopaths, psychopaths and their victims. Lovefraud is also aware of people all around the United States, and in some other countries, who have been victimized by sociopaths and are willing to tell their stories to the media. For more information, contact:
Donna Andersen
[email protected]
609-945-1384
Television appearances
July 24, 2014 – Handsome Devils on Investigation Discovery
Mary Turner Thomson of the UK describes her marriage to William Allen Jordan, who had convinced her that he was a CIA agent. Donna Andersen comments on the case.
He Tipped a High Chair Over to Deflect a Question
June 20, 2014 – ABC 20/20 News Magazine
ABC 20/20 does an expose of Budimir Drakulic, who took more than $410,000 from his girlfriend, Katherine Underwood. Donna Andersen provides expert commentary
Woman Dons Disguises to Get Money Back from Ex
March 3, 2014 – Cyber Casanovas
Donna Andersen appeared via Skype as an expert on romance scams on this show that aired on ChannelNews Asia in Singapore.
October 31, 2012 – My Life is a Lifetime Movie
Donna Andersen appeared in Episode 3 of the new show on the Lifetime Network, My Life is a Lifetime Movie. The episode is called Husbands Gone Wrong, telling the stories of two women who married sociopaths (Donna's is the second story). Pictures are available at the link below. The full episode is available via your cable or satellite provider.
My Life is a Lifetime Movie photos
My Life is a Lifetime Movie videos
October 29, 2012 – Ricki Lake Show
Donna Andersen told her story, and was featured as a guest expert, on a show about love scams.
August 26, 2010 – Who the (Bleep) Did I Marry?
Watch the full episode with Donna Andersen
Donna Andersen told her story in the premiere episode of Who the (Bleep) Did I Marry?, which aired August 25, 2010, on the Investigation Discovery network. You can now watch or download the full episode (22 minutes) on Amazon Instant Video for $1.99. You need to have an Amazon 1-Click buying account.
Who the (Bleep) Did I Marry, Season 1, "Don Juan Down Under," on Amazon.com.
Print, web and radio
September 12, 2017 – Real Perspectives TV Show
Donna Andersen was interviewed by LeTonya Moore and Mario Brown via Facebook Live.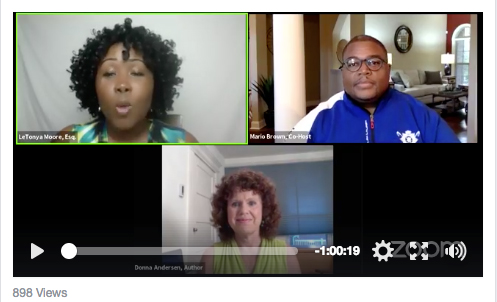 August 13, 2017 – Press of Atlantic City
Donna Andersen appeared on the front page of the Press of Atlantic City as part of the newspaper's series on domestic violence.
The kinds of domestic abuse that don't leave physical scars, on PressofAtlanticCity.com.
July 18, 2015 – Talk with Francesca
Donna Andersen's interview on the "Talk with Francesca" program on Boston talk radio.
Donna-Andersen-on-Talk-with-Francesca
June 30, 2015 – Psychology Today
Donna Andersen is quoted in an article about betrayal, written by Abby Ellin.
May 13, 2014 – Unlock the Door
Donna Andersen talks to Mike Cross in an audio interview on YouTube.
March 23, 2014 – Tricia's True Crime radio
Donna Andersen's interview with Tricia Griffith begins about 30 minutes into the show.
New Current Events Podcasts with
Websleuths
on BlogTalkRadio
March 20, 2014 – I Heart Radio Extreme Talk
Donna Andersen was interviewed by Tricia Griffith

March 20, 2014 – Dr. Katherine Albrecht Show
To listen to the show, go to KatherineAlbrecht.com and scroll down to Hour 2 of March 20, 2014.
February 9, 2014 – Straight Wives Talk Show with Bonnie Kaye
Check Out Women Podcasts at Blog Talk Radio with
STRAIGHT WIVES
on BlogTalkRadio
January 9, 2014 Last First Date Radio with Sandy Weiner