Lovefraud Live! on Youtube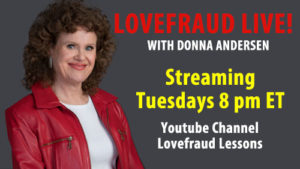 Donna Andersen, author of Lovefraud.com, teaches you how to get smart about everyday sociopaths — the master manipulators who live all around us. Join her live on Tuesdays at 8 pm ET. This is a live streaming show, so ask your questions by chat and Donna will answer. Coming up:
5 reasons why the sociopath's behavior makes no sense • Tuesday, April 13, 2021 • 8 pm ET
If you're involved in a romantic relationship with a sociopath, it eventually goes bad. This person who proclaimed undying love to you is suddenly cruel beyond belief, leaving you shocked and confused. What happened? In this episode of Lovefraud Live, I explain five reasons why the sociopath's behavior in your relationship makes no sense. This is a live streaming show, so send your questions by chat and I will answer them.
Click here to set a reminder on Youtube
Donna Andersen interviewed for Spanish YouTube channel "El Radar del Fraude"
I had the pleasure of being interviewed by Giancarlo Berrocal, CFE, for his Youtube channel about fraud for Spanish-language viewers. He asked some great questions! The interview is in two parts.
Donna Andersen and Liberty Forrest: Conversation of Hope

Liberty Forrest and I had a delightful conversation that I want to share with Lovefraud readers.
Liberty Forrest, PDHom and a certified Law of Attraction Life Coach, is the author of several books including The Power and Simplicity of Self-Healing. She is now sharing her wisdom with the Lovefraud community, posting an article every Monday.
Liberty and I are both survivors of toxic relationships, which led both of us toward missions of sharing what we learned with others. In this conversation, we discuss our experiences, what they mean, how we recovered, and how we help others overcome their own involvements with sociopaths. Click the link below. Enjoy!
Conversation of Hope: Donna Andersen of Lovefraud on relationships with sociopaths and narcissists
Australian Study: Mental Health Consequences to Romantic Partners of Narcissists
To help improve understanding of how narcissists affect their partners, Lovefraud posts this announcement of a research study being conducted by RMIT University in Melbourne, Australia.
Did your ex-partner expect constant admiration?
Was he/she self-centred and/or arrogant?
Did he/she lack empathy and consideration for other people?
These are some characteristics of narcissists.
If you believe your ex-partner may have been a narcissist, you live in Australia and are 18 years or older, we invite you to participate in our study:
Mental Health Consequences To Romantic Partners Of Narcissists
Narcissistic abuse has been associated with depression, anxiety, and post-traumatic stress. It has also been suggested it may be linked to trauma bonding, where intermittent reinforcement of reward and punishment leads to strong emotional bonds, that are resistant to change. However, very little scientific research has examined this, with none found in an Australian population.
This study will investigate the relationships between mental health, trauma bonding, resilience and narcissistic abuse in ex-partners of narcissists. The outcome of this study may increase health professionals understanding of narcissistic abuse and its consequences and, may be beneficial in the future creation of interventions for those that have suffered narcissistic abuse.
If you are living in Australia, 18 years or over and believe you have previously been in a relationship with a narcissist, and would like to participate in this research, please click on the following link:
https://rmit.au1.qualtrics.com/jfe/form/SV_2mAgzFZy3rmXaRf
The online questionnaire will take approximately 20 minutes to complete. If you would like further information regarding this research project, please contact the chief investigator, Dr. Mirella Di Benedetto (email: [email protected], phone: 9925 3019).
Mary Ann Glynn, LCSW, and Rose T to hold weekly conference call support groups Sundays at 5:30 pm ET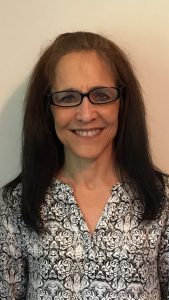 Experience the support of people who know from wherever you are! Join our free support group every Sunday at 5:30 pm EST. Go to destructiverelationshipshelp.com and use the Contact Form at the bottom of the home page to state your interest in joining.  Do this every time even if you have joined us before!  We will reply to you with instructions to join the conference call.  It is anonymous and no personal information is displayed or shared.
Earn money by telling your friends about Lovefraud courses!
Join the Lovefraud Affiliate Program, and you can earn a commission of 20% just for telling your friends and colleagues about Lovefraud Continuing Education courses.
All you have to do is "like" a course via Twitter, Facebook, Pinterest of LinkedIn, using the social media buttons on any course description page.
If you have an email list or web page, you can download special text links, logos, photos and even ads from your affiliate dashboard, with your personal referrer code already embedded.
Lovefraud pays commissions monthly via Paypal. Or, you can use your commissions as credit towards purchasing courses yourself.
More information: