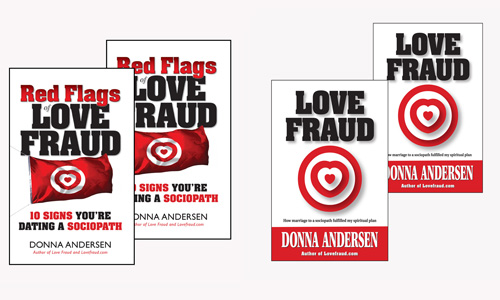 Give the gift of knowledge, understanding and healing to yourself and a friend! For the holiday season, when you buy one Lovefraud printed book, you'll receive a second copy of the book for free!
I am pleased to offer you:
Red Flags of Love Fraud
10 signs you're dating a sociopath

Two copies for $17.95 you save $21.95!

Red Flags of Love Fraud reveals, for the first time, the tactics of social predators who pursue romantic relationships not for love, but for exploitation. You'll learn how sociopaths seduce their targets, why it's hard to escape the relationships, and how you can protect yourself.
Love Fraud
How marriage to a sociopath fulfilled my spiritual plan

Two copies for $14.95 you save $44.95!

Love Fraud tells two parallel stories. The first is the true story of my marriage to a sociopathic con artist, James Montgomery. He promised a life of luxury, but took $250,000 from me, cheated with at least six women, had a child with one of them and committed bigamy. It's a revealing look at the true behavior of a sociopath.

The second story is a spiritual journey. Seeking to understand why my life was ravaged, I learned that there was a reason for the experience to release the devastating betrayal so that I could return to wholeness.
The books are autographed by the author (that's me). To order your copies, please visit the Lovefraud Store.