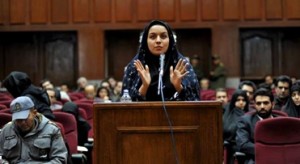 Rayhaneh Jabbari, a 26-year-old Iranian woman has spent the last seven years in prison because she fought back against a man attempting to rape her and killed him. Soon, she is scheduled to be executed by hanging.
A Lovefraud reader has forwarded a link to a petition to save the young woman's life, which will be delivered to international authorities.
Although the case has not received much coverage in English-speaking media, the Lovefraud reader, who speaks Persian, says it has been covered in Persian media not controlled by the Iranian government. In fact, Nazanin Afshin-Jam, an Iranian-Canadian model and human rights activist who is married to Canada's Minister of Justice, tweeted a link to the petition.
Link for more info and the petition.
UN expert calls on Iran to halt execution of Iranian woman, on Scoop.Co.NZ