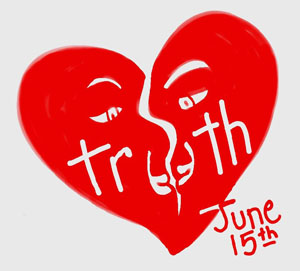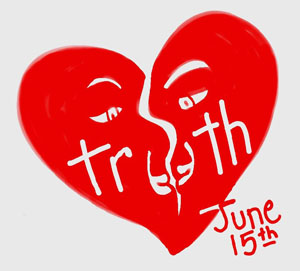 By Joyce M. Short
Most of us here on LoveFraud have been harmed by the lies and manipulations of sociopaths. Our hopes were dashed by betrayal, and we were sexually embroiled in hoaxes. Our struggle to recover our dignity has been a painful process.
Donna has long established this healing community where people can join together to support one another, and I've endeavored to raise awareness regarding the criminal nature of what takes place so that it will stop. In my effort to do so, I've created Truth in Romance Day to bring to light the painful harm emotional predators create when they deceive their target of sex or love.
The very first annual, international Truth in Romance Day will take place on June 15th. It's a day to celebrate forthright behavior in sexual and romantic relations and bring the problem to the forefront of society's consciousness. It's a day that folks engaging in new relationships should share information to support what they've divulged about themselves by exchanging ID and any other documents that back their claims.
Many hoaxes can be avoided by finding out that the person you're having sex with actually has a different name than the one they gave you. Mischele Lewis, who successfully prosecuted William Allen Jordan, a con artist who'd given her the name Liam Allen, discovered his scam by looking at his driver's license. Jordan was subsequently convicted of defrauding Lewis of $4,800 and pretending to be a government official.
Rarely does a married spouse want to divulge their personal address. And misstating age is a common lie among internet daters. Checking ID will not uncover every hoax that emotional partners use, but it's a start. The focus on Truth in Romance will help raise awareness about the importance of accuracy when establishing loving relationships, and the possibility that you could be harmfully fooled.
It's my hope, by creating Truth in Romance Day, that the amount of lies told to embroil unsuspecting victims will diminish because offenders will know that they'll have to fess up and come clean on June 15th. The reward for truth on Truth in Romance Day, is a bubble bath for two. The consequence is a distasteful bar of soap and a speedy trip through the exit door!
Please help spread the word. By all means, relate your experiences engaging in Truth in Romance Day with your emotional partner, and the tales you hear from folks you've passed the information to. To do so, click here.
If you'd like more information, click How to Introduce Truth in Romance Day to Your Mate. 
Joyce M. Short is the author "Carnal Abuse by Deceit." The book chronicles her life with a predator, the subsequent aftermath and her road to recovery. It also provides advice for victims and their supporters, and discusses the issues surrounding criminalization of rape-by-fraud.