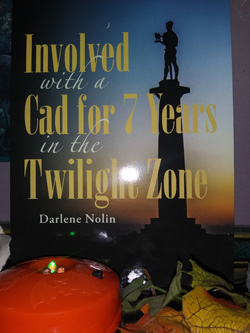 By Darlene Nolin
I wrote my new book, Involved with a Cad for 7 Years in the Twilight Zone, so that I could gain some peace while going through my journey of healing and recovering after marriage fraud and abuse. It enabled me to move forward with my life in a more positive direction. I wanted to shine a bright light on a very dark chapter in my life, instead of sweeping it under the rug.
My story is an eye-opening cautionary tale exposing the devastating consequences of predatory foreign nationals who initiate internet relationships for the purpose of obtaining a green card through marriage to an American citizen. It was an ill-fated relationship marked by indifference, adversity, deceit, betrayal, and endurance.
I take you through my marriage with my foreign national ex-spouse, who went from charming to alarming to harming. During this insidious union with nefarious intent, I discovered that my marriage was one-sided and only for the purpose of securing him a United States visa, then a green card.
Read more: Is your partner a sociopath?
I felt as though I had a responsibility to myself as well as others to speak up and share my experience. By doing so I hope that it prevents others from embarking on a journey similar to my own. I wanted to help others recognize that they are involved with an online predator — one who wears a charming mask of deception — so that they can take action to end the insanity before it starts, in order to prevent it from going any further.
U.S. immigration fraud
I felt compelled to make some noise about U.S. Immigration marriage fraud – to give some small measure of justice for those who were and still are victims of the system and survivors of predators.
I found myself in a hopeless situation and abandoned in Europe for 6 years by my friends and family who refused to become a co-sponsor for "his" U.S. visa application. They actually saved my life by refusing to do so, and I needed to make this a known fact in order to save others from a similar or even worse fate.
While I was living in Europe for 6 years in a third world country, I found an online American Expat Facebook group of American citizens who were also married to European nationals. They also could not return home because no one would co-sponsor them either. I befriended a woman from Cambridge, Massachusetts who was also married to a foreign national from the same country as my ex-spouse. My ex-spouse severed the relationship that I had with her behind my back when he found out that her spouse divorced her after he gained U.S citizenship.
I also learned that the U.S. Immigration law Financial Affidavit of Support (form I-864) has been on the books now for a long time. It was originally put there to protect United States citizens from foreign nationals preying on them for a green card. However, it can also harm the U.S citizen if they do get their spouses visa application approved. By then they have entered into a legally binding contract with the US government, and they are now financially responsible for their foreign national spouse even after they are divorced.
Consequences of marriage fraud
Although I do not, and I never did consider myself to be a "his" victim, I am a survivor of psychological, emotional and financial abuse – and marriage fraud. My scars were invisible, and, on the inside, I was not okay.
Learn more: Escaping the sociopath and rebuilding your life
My book also highlights that severe health consequences can and did develop as a result of years of abuse. Putting your life back together after such an experience is a long road. Although it is starting to show some signs of improvement, it is a journey that I am still on four years in the aftermath.
By writing my book, Involved with a Cad for 7 Years in the Twilight Zone, and sharing it with the world I hope to highlight the dangers and risks of embarking on an online relationship with a stranger.
~Loving ourselves through the process of owning our story is the bravest thing we will ever do. ~