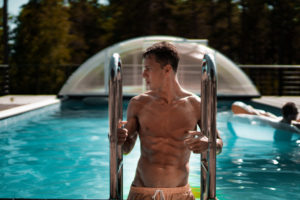 Lovefraud received the following story from a reader whom we'll call "Constance21" about the man she dated — a gorgeous guy who led a double life.
I met my partner at age 31, just when I'd almost given upon finding true love. He checked all the boxes and then some.
I gloated with pride whenever people asked if he had any brothers or friends like him. Tall, 6-pack, former college athlete, millionaire parents, corporate finance executive, dressed like he stepped out from a page of GQ, quiet, no known vices, never been married and had no kids, and lastly had a soft spot for rescue dogs.
Too good to be true you say? Had I known then what I know now, I'd be $50,000 richer and wouldn't have been robbed almost 7 years of my life.
Read more: What's a sociopath?
He was a gorgeous guy who led a double life for 4 years, dating myself and another woman in the area, and his world came crashing down after I contacted the other woman, his parents and the other woman he was cheating on me with.
Found out he said I had a brain tumor, I had kidnapped our own dogs from daycare, that I refused to move out of our house and "left" all my things there and left town, my uncle "hacked" into his iPhone when I showed one of the women he was dating that I'd been his long time live in girlfriend with time-stamped text messages.
He said he had to hire an attorney to fight in court to try get our dogs back, all while telling me I was crazy and he worked too much to even consider dating anyone behind my back and if I didn't drop the pressing questions it "wouldn't end well for me."
When I tell this sick story of deception, emotional abuse, substance abuse and depression; I hear over and over again "it's like a movie." But it wasn't a movie it was my real life, and I cannot believe it myself. I was like a hamster in a wheel and couldn't stop running but was getting nowhere all because of one sociopath I was in love with — a gorgeous guy who led a double life.
I know of other victims — One girlfriend he dated for 6 years in college and the other women he dated for 4 of the years he dated me. I also outed him cheating on his current girlfriend with me as there was a 6-month overlap of both of us.
She thanked me but decided to stay with him and she moved into our old house because she told me "it just feels so real and he says I'm different."
Learm more: What did they want? Psychopaths, antisocials and other exploiters in romantic relationships