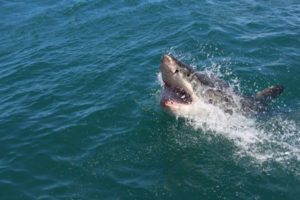 Editor's note: Liberty Forrest, author of several self-help books and a certified Law of Attraction Life Coach, explains why worrying makes matters worse — when you're obsessing about the bad, you can't see the good. Read more about Liberty.
By Liberty Forrest
Do you remember the expression "worrywart"? I wonder if anyone still uses it. I haven't heard it in years. Hmmm, that makes me sound older than dirt.
Whether or not anyone uses that phrase, one thing is for sure: All over the world, people still worry a lot, whether they are called "worrywarts" or not. I used to be one of those people.
I suppose I came by it honestly enough. I'm sure it had its roots in childhood, growing up with a couple of sociopaths. From my earliest memories, I lived in fear. I've sometimes described it as feeling like the theme music from "Jaws" was playing in the background throughout my childhood and it continued for much of my adult life as well. I was in a constant state of fear and anxiety, waiting for the other shoe to drop, or more accurately, for a grand piano to fall on my head. Sure enough, the shoes and pianos kept dropping. That can make a person worry. A lot.
An Emotional Hostage
As a kid, I didn't have much choice about what was happening in my environment. Virtually held hostage by an extremely toxic mother and an abusive older brother, I did my best to adapt but the middle-of-the-night panic attacks began when I was nine and anxiety gnawed at my guts every waking minute.
Read more: Recovery from the sociopath
Eventually, I became an adult who didn't know she had much choice about it. I'd gotten so used to worrying and being in fearful situations, that I just went from one to the next, to the next. It was all I expected from life. I thought I had no choice, no control about any of it.
I used to say that if it weren't for bad luck, I wouldn't have any luck at all. And of course, the miseries continued to come. And so did the worry.
I had removed myself from the sociopathic home in which I grew up, but the damage was ongoing. A divorced single parent in my late teens, I suffered with anxiety disorders, including one that became life-threatening. I developed an addiction to deal with the anxiety. And I kept finding more sociopaths and toxic relationships because they were what I thought I deserved.
Worrying makes matters worse
There's been a lot of talk in recent years about "The Secret" and "The Law of Attraction" and I'm the first one to tell you I've seen it in action and it works. "What you think about, you bring about." If you focus on what you want, you'll get it. If you focus on what you don't want, you'll get that, too. Worrying makes matters worse.
But even if you remove any notion of "The Law of Attraction" and look at the concept as simply as possible, it just makes sense. Let's say you've decided to look for a particular type of job. You've decided this is for you and you're all excited about it. You're thinking about this job a lot, you're imagining yourself in that role and you can't wait to make it happen.
In that frame of mind, you'll be open to spotting an advert about just such a job, or one that sounds like it might be the right one. Or you'll overhear a conversation about it. Or if someone comes to you and says, "I heard about this job possibility for you," you'll jump at the chance and get details and contact information.
On the other hand, if you think you'll be stuck in your job forever, you couldn't possibly change, no one would hire you, you'd never get any other job, you can't learn anything new or some other bunch of blah blah blah, your eyes will skate right past those adverts.
When you overhear a conversation about a job you might like, you'll think, "What's the point, they won't hire me anyway."
And if someone comes to you and tells you about this job that would be perfect for you, you'll think, "I'll never get it," so even if you take the contact details, you won't bother using them.
In either case, you validate your beliefs. It's what we do. It's human nature. Forget thinking about "The Law of Attraction" and just think about how your feet will lead you to whatever is on your mind. It's kind of like when you're driving and you go into a skid. They always tell you, "Do not look where the car is heading or you'll keep steering in that direction." They tell you to look away from the direction of the skid. To get out of it, you have to look back to the safe part of the road, where you want to be.
Well, there's a reason for that. We will follow our gaze, literally and figuratively.
Get Out of the Skid
Did you ever notice how we gripe about feeling miserable and we say, "I have all this stuff to worry about!" Did you ever notice how worrying about all that stuff never made you feel any better? In fact, it made you feel a whole lot worse?
I'm sure you know what I'm talking about. No doubt the sociopath has given you plenty of reason to feel anxious and to worry about what lies ahead; it's one of their favourite pastimes. How many times have you found yourself thinking about the situation with that person, feeling angry, frustrated, frightened, confused or anything else that's unpleasant, and noticed that you start to feel ill? Have you noticed that your stomach gets in knots? Or maybe you even feel a bit sick? Does your body tense and your head start to ache?
Learn more: The Miracle in the Madness — Pathway to healing from destructive relationships
Worry is just a prayer for the negative. So no wonder you felt worse. All that negative energy isn't good for your body and it manifests in physical symptoms, anxiety and more. Every time you think about the sociopath and the problems that person has caused, you leave yourself open to feeling worse. And you're risking dragging a whole lot of whatever you were worrying about right smack into the middle of your life because you were thinking about it. You were focusing on the direction of the skid, so you slammed right into the wall or the oncoming vehicle.
I know how difficult it can be to disconnect yourself from a sociopath and the residual damage. I also know that worrying makes matters worse. It's like praying for more of the same.
Keep your thoughts positive and forward-focused. Look away from the skid; turn your attention to where you want your car to be headed and get back to the safe part of the road.
This article was originally published at LibertyForrest.com. Reprinted with permission from the author.