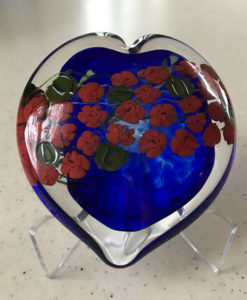 UPDATED FOR 2021: On this Valentines Day, if you've been previously devastated by a sociopath, you may wonder if you can ever love again. The answer is yes. And here's a bit of wisdom that will help you decide if a new romantic partner is authentic and true: Real love is easy.
I am living proof. In February 2000, I was divorced from James Montgomery, who took a quarter of a million dollars from me, cheated throughout our brief two-and-a-half-year relationship, had a child with another woman while married to me, and then married that woman 10 days after I left him, committing bigamy. I was crushed.
After I left Montgomery, I had one nice relationship with a man, although it didn't turn out to be permanent. He was normal, not disordered, and supportive of me. I was sad when the relationship ended, but it was a step along my path towards healing.
Then, in April 2001, I met Terry Kelly. We married in 2005 and yesterday we celebrated our 16th wedding anniversary. The photo is a picture of the art glass heart that my husband gave me. It's another one for my collection — I have art glass hearts all over the house.
After 16 years, we are still totally happy and in love. From our wonderful marriage I've learned the important truth: Real love is easy.
Signs of real love
In real love, there are no mind games. There is no manipulation. There are no guilt-producing accusations like, "Don't you trust me?" or "Who are you sleeping with?" There is no pleading to be forgiven, no promises to never do it again, because there are no violations of trust that require forgiveness.
I do not wonder if my husband really loves me, because I know he does. I can feel it.
Here's what you get in a true, loving relationship: Enjoyment of each other's company. Honest caring for each other. Consideration of each other's feelings. Real partnership—not a one-sided deal, with you as the giver and the other as the taker.
Sure, there problems that need to be solved. Guess what? Issues are resolved and life goes on. There is no drama.
I will say this—after the disaster of a marriage to a sociopath, I am highly appreciative of my new husband. He, too, was previously married, and although his ex wasn't malicious, the relationship had become empty. So we both appreciate each other. In fact, we find joy in each other.
Making the transition
So how does this happen? How do you make the transition from wounded victim to a whole person ready for love?
As I've written before, I believe your emotional pain needs to be processed. When my heart was broken, it allowed all the trauma from my bad marriage, and all the pent-up pain from other disappointments in my life, to be released. Slowly, over time, it came flowing out, through tears, yelling, screaming and punching pillows.
You don't want to inflict this display on other people—my releases were witnessed only by my therapist and my dog. And they really upset the dog.
The emotional release takes time, because we all have many layers of pain. But as the negative energy dissipates, there is room in your being for something else. That something else is love.
So if you're in recovery after a run-in with a sociopath, give yourself time and permission to heal. Trust that you've learned the red flags of personality disorders, and by listening to your instincts, you won't be deceived again. Believe that real love is possible, know that real love is easy, and someday, it will find you.