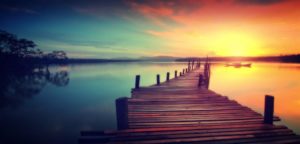 Editor's note: Liberty Forrest, author of several self-help books and a certified Law of Attraction Life Coach, encourages you to magnify the magnificence of your life, even as you recover from a toxic relationship. Read more about Liberty.
By Liberty Forrest, PDHom
Wow. Look at that. Another new day. Isn't it magnificent?
You might ask, "What's so magnificent? I have to do this and that and a bunch of other stuff I don't really want to do. And I'm still dealing with the miseries produced by that toxic relationship!! Can I just go back to bed now, please, and call it a day?"
Well, I don't know, that's up to you. But you ask, what's so magnificent? For one thing, you woke up today. You're drawing breath. Think about the magnificence of that. Think about what your body is doing, all by itself, without any instruction from you. Automatically, your heart keeps beating, flooding every part of your body with blood, providing fresh oxygen to keep you alive.
Read more: How to recover from the sociopath
All of your organs, tissues, bones and muscles are functioning so you can do all kinds of things. You can move, create, communicate, and live your life. You're not thinking about it but your body is very busy, doing millions of super cool things quietly behind the scenes, just like the camera crew, the director, producers, and that looooooong list of people you see in the credits but never see in the film. Without them, the film would not exist, no matter how much you pay the actors to show up.
Even if some parts of you are now absent or not working (or not as well as they used to do), you're still here and you're well enough to be able to read this. Your brain, your eyes, and your nervous system are all allowing you to absorb and understand what you're seeing. That's magnificent!
So this day is here, and it's also magnificent that you are here. Even if you aren't feeling it in this moment, it's still the truth. Just ask anyone who loves you or depends on you, anyone who looks forward to seeing you, or hearing from you. They'll tell you it's magnificent that you're here.
And that's because you're magnificent! There's no one else just like you. Yeah, I know, you've heard that before. We've all heard that before. But do you ever really think about it? You're not replaceable. You're the only "you" who will ever exist. No one else will ever create anything the way you do, whether it's a conversation, a piece of art, the way you cook, the life you live, the family you build, or the way you contribute to friendships, to the world, or to your own little corner of it. You matter to many people. You mean the world to some. Because you're magnificent.
Learn more: The miracle in the madness — the pathway to healing from destructive relationships
Today isn't just another day. Whatever is going on in your life, today is a magnificent gift from the universe. Don't just sit there staring at it, admiring the pretty big bow, the lovely ribbon and beautiful wrapping paper, and wondering what's inside. Go on, open it up and see! And let's not have any of that careful removing-of-the-bow or untying-of-the-ribbon, please. Don't be painstakingly peeling off the tape so as to preserve the pretty paper. C'mon! Yank off that bow, pull off that ribbon, get your fingers under the edges of that paper and rip it off like an excited little kid would do on Christmas morning! Ooo, it's exhilarating and ever so satisfying!
It's already a magnificent day, just because it's arrived – and just because you're here. Imagine what it could be if you magnify the magnificence of your life, even as you recover from the toxic relationship, by letting your Spirit tear into that gift! Give it a try, then come back and tell me all about it, okay?
This article was originally published at LibertyForrest.com. Reprinted with permission from the author.