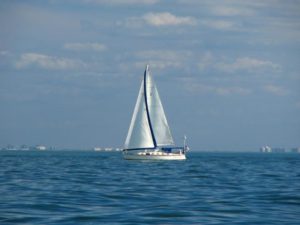 Editor's note: Lovefraud welcomes Liberty Forrest, author of several self-help books and a certified Law of Attraction Life Coach. Read more about Liberty.
By Liberty Forrest, PDHom
I know what it feels like to have your dreams blown to smithereens. It's especially painful when it's at the hands of someone you love(d). Someone you thought loved you back.
And I know it can be scary to dream again. You don't want to risk yet another crushing disappointment.
But it doesn't make sense to let past hurts prevent future happiness. And when you do that because of a toxic relationship and its fallout, you're handing that person your happiness on a platter. You're handing over your power and giving them control of the rest of your life (or until you decide that you can be happy whenever you choose it).
If you plan on enjoying life again, at some point you've got to be willing to stop allowing other people to be in charge of your happiness. They're certainly not concerned about it! Do they really deserve to trash your joy for months and years to come? Do you deserve that? (No, you really don't!)
The best way to take back control of your happiness and your future is to allow yourself to dream again.
Dreaming doesn't even cost anything. And it doesn't require any energy. It requires only a little imagination, a desire – perhaps just the little spark of one – and you can go to the most amazing places in your mind. And those places could become your reality if you follow Law of Attraction principles. 
Here's the most fun part of dreaming: If you're gonna dream, dream Big. Why not? You have nothing to lose. And everything to gain.
Our dreams can motivate us to be better, to achieve more, to have, to be, to do what our hearts desire. They feed the ambitions of our souls. They quench the thirst of our longing. Without them, we would have nothing for which to strive, nothing to give us hope, nothing to which we can cling when the storms of life are tossing us from pillar to post.
It is true that some of our dreams will never come true. But we won't know which ones they are until we've made every effort – until we've done absolutely everything in our power to make them a reality. Giving up before then should simply not be an option.
The only way your dreams will die is if you let them.
This article was originally published at LibertyForrest.com. Reprinted with permission from the author.