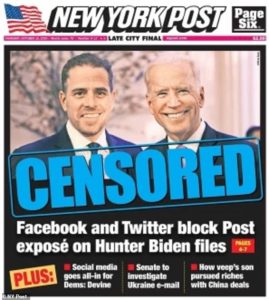 Here's a scary reality — sociopaths engage in impression management, and exerting power and control, in order to advance their agenda. Organizations do it too — which was on full display last week when Twitter and Facebook took extraordinary steps to block you from seeing news that they didn't want you to see.
The New York Post published two bombshell stories last week:
Hunter Biden emails show leveraging connections with his father to boost Burisma pay
Emails reveal how Hunter Biden tried to cash in big on behalf of family with Chinese firm
Have you heard about these shocking stories? If you didn't, it's probably because Twitter blocked users from sharing the links, Facebook slowed down distribution on its platform, and other news organizations used these actions as excuses to not cover the stories.
My background is journalism. I have a degree in magazine journalism from Syracuse University. I am outraged by the actions taken by Twitter and Facebook, which amount to blatant censorship.
I don't care what your politics are — those stories are news, and Twitter and Facebook did their best to hide the news from you.
How the emails were found
Twitter and Facebook questioned the credibility of the reporting, which was also outrageous. The New York Post is not a fly-by-night rag. It was founded in 1801 by Alexander Hamilton. The newspaper is owned by News Corporation, which also owns Dow Jones and the Wall Street Journal. It has the fourth-largest newspaper distribution in the United States.
Yet Twitter designated the Post's reporting as a violation of their "hacked materials" policy, shut down' the Post's primary Twitter page, and prohibited anyone from tweeting links to the story.
And the claim about "hacked materials"? Here's how the story was reported:
The emails came from a computer that was dropped off at a repair shop in Wilmington, Delaware, in April 2019. The shop owner, John Paul Mac Isaac, believes the person who brought it in was Hunter Biden, although he can't be sure. But the computer did have a "Beau Biden Foundation" sticker on it.
Ninety days and multiple phone calls later, no one came to collect the computer. Mac Isaac looked inside, saw emails that caused him to worry, and contacted a friend, who contacted the FBI. The FBI took the computer in December 2019.
But, being a tech guy, Mac Isaac made a copy of the hard drive, which was eventually given to the New York Post. More details are here:
Hunter Biden email story: Computer repair store owner describes handing over laptop to FBI
CNN, doing its part to suppress the story, has only one article about it:
US authorities investigating if recently published emails are tied to Russian disinformation effort targeting Biden
Learning to look for the agenda
One of the big lessons that I learned from my disastrous marriage to a sociopath is that people usually have an agenda for their social interactions, and it is crucial to figure out what it is.
Now, agendas are not necessarily bad. My agenda in creating Lovefraud.com, for example, is to educate you and everyone else about the human predators who live among us. Sociopaths, on the other hand, pursue agendas of manipulating and exploiting you in order to get something that they want.
Read more: Raw power and control — the core of what sociopaths want
So what agendas were Twitter and Facebook pursuing when they unilaterally decided to block access to the New York Post stories? Here's what the Daily Mail wrote:
Social media giants are accused of 'politically motivated censorship' after they blocked stories alleging corruption involving Donald Trump's Democratic rival Joe Biden
The next question becomes, if Twitter and Facebook engaged in politically motivated censorship, why did they do it?
First Amendment prohibits government censorship
You may be wondering about the First Amendment to the United States Constitution, which protects our freedom of speech and the freedom of the press.
In a landmark 1927 Supreme Court case, Justice Louis D. Brandeis created the counterspeech doctrine, which holds that the solution to false speech is more speech. He wrote:
If there be time to expose through discussion the falsehood and fallacies, to avert the evil by the processes of education, the remedy to be applied is more speech, not enforced silence.
So did the actions of Twitter and Facebook violate our constitutional rights?
The answer is no. The constitution forbids censorship by the government. It does not prohibit censorship by companies or individuals. This is why the concentration of power in Big Tech and Big Media is so disturbing. The editors and publishers who are making the editorial decisions about what is news and what is not news have their own agendas, and they are shoving them down our throats.
Seek out information and make up your own mind
So here's my recommendation: Think for yourself.
In these tumultuous days, be aware that many, many people and organizations are exerting power and control in order to manipulate and exploit you.
I recommend that you question everything. Seek out information from sources that you don't usually look at. If you're a liberal, look at conservative news sources. If you're a conservative, look at liberal news sources. What makes sense to you? What resonates with your own beliefs?
Don't be influenced by someone else's strategy of power and control. Take back your own power and control, and make up your own mind.
UPDATE:
After four days, Twitter still has not unlocked the New York Post account. And neither Hunter Biden, nor any campaign official, have said that the emails are fake.
Twitter won't unlock NY post account until Hunter Biden posts deleted, on Epoch Times.